On December 27, 2003, Town and Talent Technologies hosted an exchange forum for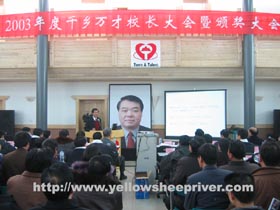 member school principals at the International Convention Center at Yellow Sheep River (YSRICC). More than 120 officials, scholars, businessmen, and member school principals from Beijing, Gansu, Tibet, Taiwan, and Hong Kong were privileged to attend this extraordinary event.
The member school principal exchange forum is held annually. With the recent tragic death of the founder of Town and Talent Technologies, Mr. Sayling Wen, the forum was infused with special meaning and tributes to Mr. Wen. Distinguished guests poignantly recalled Mr. Wen's wisdom and passion. One and all vowed to continue their efforts in realizing the Town and Talent Project and benefiting impoverished western areas. They pledged to accomplish Mr. Wen's final unfulfilled wish in fully developing western China and eliminating the endemic problem of poverty.
The first day of conferences got under way at 9:30am. A large photograph of Mr. Wen was hung in the middle of the hall. Over the following five-hour conference, a harmonious atmosphere descended on those in the hall. Attendees all expressed their grief and respect for Mr. Wen, while emphasizing Mr. Wen's idealism and dream for the west. Dr. Kenny Lin, president of Town and Talent Technologies, read a poem he penned himself to give voice to the more than 30 years of abiding friendship he shared with Mr. Wen. Dr. Lin conveyed his appreciation for Mr. Wen's efforts and contributions to Town and Talent. Standing alone in front of Mr. Wen's picture, Dr. Lin introduced Mr. Wen's revolutionary theory of establishing Internet Villages and developing the west in seven landmark steps. Reduced to tears by the still painful reality of loss, Dr. Lin informed guests of the progress in Yellow Sheep River. After hearing his speech, all attendees at the forum were filled with renewed confidence in the implementation of the Town and Talent Project and operation of the YSRICC.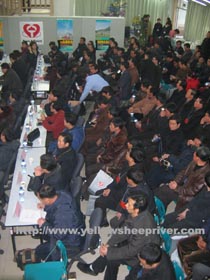 Mr. Zhang Wen-Pu, director of the Taiwan Affairs Office in Gansu province, traveled from Beijing to attend the forum and recounted his three-year discussion with Mr. Wen regarding western development. He affirmed that he would further endeavor to support the Town and Talent Project.
Mr. Wang Zhi-Hua, director of the Taiwan Affairs Office in Ningxia Hui Autonomous Region, expressed his admiration and sorrow over the loss of Mr. Wen. He gave high praise for Town and Talent's efforts in using the Internet to develop western China. With the proper support and commitment, he believed that Town and Talent could accomplish Mr. Wen's dream of western Chinese development.
Mr. Wang Jian-Xuan, former administrator of the Taiwan Financial Bureau, stressed the importance of improving education in underprivileged areas. He believed additional practical steps needed to be taken to develop the impoverished west. Mr. Wang outlined his plan for offering free tuition and entry to academically outstanding yet underprivileged students. His proposal greatly aroused the interest of school principals.
Mr. Ge Chang-Zhong, president of Guangcai Future Group, also articulated his admiration for Town and Talent, and introduced his 212 Project. He looked forward to working in future cooperative ventures with Town and Talent Technologies.
After lunch, guests visited the ongoing construction site of the International Convention Center, as well as Yellow Sheep River Vocational Middle School. They were able to relish in the pure and rare beauty of Yellow Sheep River. The obvious and positive changes in the region made them admire Mr. Wen more than ever.
Mr. Xue Qi-Xiang delivered a report at the afternoon meeting, detailing the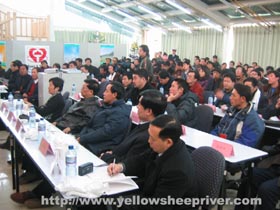 layout of the International Convention Center. Mr. Lin Da-Wei, chairman of the Hong Kang International Internet Co. Ltd., stated that his company would invest in Yellow Sheep River. It would manufacture and sell computers throughout China, and in doing so, assist Town and Talent Technologies in western development. Mr. Lin also donated a high-powered computer to every member school. Dr. Xu Guo-Hui of the Hong Kong Educational University claimed that he would endeavor to contribute in future to the Town and Talent Project.
Ms. Chen Hui then presented a report on the OTschool educational system. Finally, Mr. Peng Hai-Na gave a status report noting the development of member schools and e-business centers in 2003.
Dr. Kenny Lin and other provincial officials awarded certificates of excellence to selet member schools and teachers. The 11 exceptional member schools included: Yellow Sheep River Town Middle School, Xuanhe Middle School, and Dacai Middle School, In addition, nine individuals were honored for their outstanding contributions, including Mr. Hu Wan-Long and Cao Yuan-Zhang. Xuanhe Middle School's principal and Mr. Hu Wan-Long described their experience for the benefit of guests. The forum concluded to thunderous applause and jovial spirits.