Time: 15:30-16:00 Dec. 22, 2005
Place: Classroom of 7th grade no. 4 class in Dacai Middle School
Participants: Cao Yuanzhang a teacher and the 40 students of 7th grade
Activity: Ma Guicai a student introducing TaˇŻer Lamasery
Content:

The Tar Monastery, which means "Holy Place for the 100,000-Body Maitreya buddha," is located in the Lotus Flower Mountain south of Lusha'er town. Huangzhong County, Qinghai Province.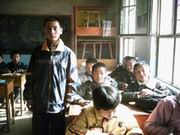 Tsongkhapa, founder of the Gelug (Yellow) Sect of Tibetan Buddhism, was born in the place where the Tar Monastery is located. The 3rd Dalai Lama Soinam Gyamco initiated construction of the monastery in Tsongkhapa's honor. Gradually, it became the mecca for Buddhists of Tibetan, Mongolian and Tu ethnic groups. And the 4th, 5th, 7th, 13th and 14th Dalai Lamas as well as the 6th, 9th and 10th Panchen Erdenis once lived there.
During its heyday, the Tar Monastery had as many as 70 Living Buddhas and 3,600 monks. Many of them were appointed Hutugto Living buddhas by the Qing (1644-1911) imperial court. And some of them served as seal-holding lamas at the Yonghegong Lamasery in Beijing and at the Buddhist Wutaishan Mountain in Shanxi Province.
Due to its size and influence, the Tar Monastery emerged as one of the six major monasteries of the Gelug Sect.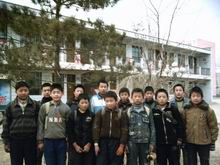 The Tar Monastery covers an area of 40 hectares. well-preserved halls include the Grand Gold Tile Hall, the Tsongkhapa Memorial Pagoda, the Maitreya Buddha hall, the Happy Vajra Buddha Hall, the Buddhist Guardian Hall (also called the Lessor Gold Tile buddha Hall), the Longevity Buddha Hall, the four others. The best-preserved are the 18 residences for the Living Buddhas, including the most famous one, the Grand Abbot Residence (also known as the Residence of the Panchen Erdeni).
Of the six major Gelug sect monasteries, the Tar Monastery boasts more halls built in the Tibetan, Han and Hui styles. The Grand Gold Tile Hall is of Han palace style, with three-tiered roofs adorned with patterns of clouds and lotus petals, pagodas, gold animals and bronze bells. Inside the hall stands the 11-meter silver pagoda enshrined with the gilded statue of Tsongkhapa, founder of the Gelug Sect. On the lotus altar are perennially burning butter lamps. The inscribed handwriting of the Qing Emperor Qianlong adorns a horizontal bar.
The Tar Monastery is also famous for its butter sculptures, frescoes and duisui embroidery. Butter sculptures are most often of Buddha, other figures and flowers.