1¡¢Description of "Our Community"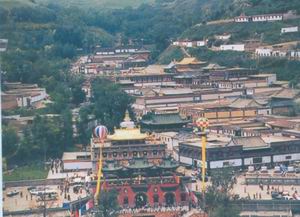 The name Tar Monastery means "Holy Place for the 100,000-Body Maitreya Buddha," Zongkapa, founder of the Gelug (Yellow) Sect of Tibetan Buddhism, was born in the place where the Tar Monastery is located. Ta¡¯er is more than 600 years old. Due to its size and influence, the Tar Monastery emerged as one of the six major monasteries of the Gelug Sect. The Tar Monastery is also famous for its butter sculptures, frescoes and duisui embroidery. Butter sculptures are most often of Buddha, other figures and flowers. It attracts thousands of pilgrims of Tibetan, Mongolian and other people.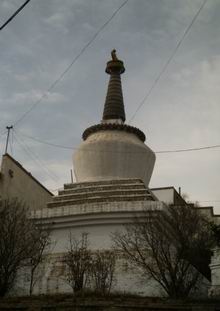 2¡¢Summary of Our Project

Tar Monastery is located in the Lotus Flower Mountain south of Lusha'er town. Huangzhong County, Qinghai Province. We mainly research on its history, scenic spots, Buddhist activities, Tibetan Buddhism and art. We have acknowledged the importance of teamwork in addition to improvement on making website. At the same time, colleagues from Town and Talent Co., Ltd have given us a lot of support and help. And our main purpose is to make more people know about the ancient monastery.


3¡¢Our Computer/Internet Access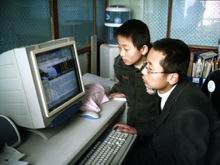 A. Percentage of students using the Internet at home:none
B. Number of workstations with Internet access in the classroom: 1
C. Connection speed used in the classroom: dial-up modem
D. Number of years your classroom has been connected to the Internet: 2
E. Additional comments concerning your computer and/or Internet access (Optional):We only have one computer having access to internet with the dial modem at the speed around 32k and our team members don¡¯t have computer at home.
4¡¢Problems We Had to Overcome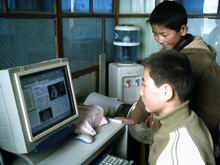 We have established an "online discussion group," making use of the one hours on Thursday afternoon. The 6 team members all come from different grades and classes. We have little commonly free time apart from the time for group activities. Therefore, we make use of the lunch hour three days a week for group discussion with the teachers.
This is the first time we participate in the CyberFair. The three supervising teachers and the team members lack previous experience in webpage construction. We have to consult others whenever difficulties arise, hence, we have to overcome all kinds of hardships and difficulties during the process.
Our computers are very old with low proceeding speed and surfing speed is also terrible. However, with our endeavor and help from Town and Talent Technologies, we have succeeded in completing the website. We are proud of ourselves and the experience is unforgettable.

5¡¢Our Project Sound Bite


We have got a better knowledge of Ta¡¯er Monastery¡¯s history. The activity has enhanced our teamwork spirit and improved our communicating and interpersonal abilities.
We have learnt a lot about communication with others. Although the process of research is harsh, we know that there is no harvest without sowing. The sweet fruit comes only with hard work. We have also gained the valuable experiences of interacting with others; this ability will be a long-life benefit for us.

By working together on the project, we have a fresh knowledge about ourselves. We not only see the merits of others, but also realize the strength of ourselves. With a common goal, we learn to "respect, communicate, be considerate and understanding", and we come to understand the meaning of "humility, contribution, agreeableness and gratefulness."