United Nations peacekeeping operation aims to help those countries suffered by conflict to create conditions for lasting peace.
Basic traditional peacekeeping operations fall into two categories: one is made up of unarmed military observers of the ob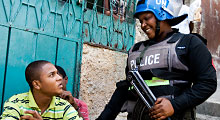 server mission to monitor the ceasefire, withdrawal, or relating to the implementation of the agreement; Second is sending equipment for self-defence in small peacekeeping force, to ensure that the ceasefire, ease the situation, creating conditions for the settlement of disputes.
Since the late 1980 of the 20th century, the number and size have greatly increased of United Nations peacekeeping operations. At the same time, in addition to continue its tasks taking on traditional duties such as to monitor the ceasefire, and rapid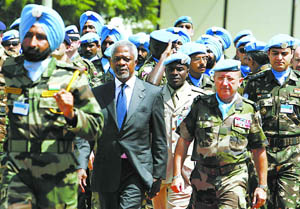 ly expand to include organizing and monitoring elections, maintaining law and order, the resettlement of refugees, creating a safe environment for humanitarian relief operations, disarming the various factions, and mine clearance, reconstruction of the country and so on.
It turns out that peacekeeping operations is the United Nations to help countries overcome difficulties and obstacles, one of the most effective means of moving forward from conflict to peace.
There are many unique advantages of peacekeeping operations, which including legal, cost sharing, military and police to deploy and maintain on a global scale, they coordinate with civilian peacekeeping personnel in order to promote the implementation of multifaceted tasks.
United Nations peacekeepers provide security and political and peace-building support to help countries overcome difficulties as soon as possible moving from conflict to peace.