Liu Hanjie
He is the headmaster of our school who attached great importance to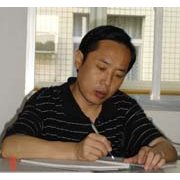 our research, chosed the theme and actively played a volunteer duty. Professor Liu leads us to learn how to analyze problems, concerned about international foreign affairs, to be a responsible citizen. He still in space and funding provided me easy, ensured the smooth development of this event.
Inclusive approach to international issues
International is of different nationalities, different culture in the continuing contacts in the formation of mutual understanding. Education should develop the students ' understanding of other people, cultural values implied in ability. Living in a pluralistic culture in the "global village" citizens' awareness of the situation and the problem should be based on historical and cultural traditions of this nation, but none of the problems in the world today has the only solution. Therefore, seeking common ground, mutual understanding, consultation, cooperation are quite important.
Luo Zhiguo
He is the vice principal of our school. In the research on this proje
ct, he gave us a lot of help, provided us a special place, dedicated computer, and at the General Assembly encouraged the whole school to take part in. He is interested in international peacekeeping and has many unique perspectives. He is knowledgeable, told us a lot of knowledge of deeper international peacekeeping and tauhgt us how to study this project
Be a responsible man
Responsibility is at the core of our fine traditional culture of the Chinese nation, regardless of work or learning, from big events in the world, world security to small families and individuals, and even your deeds, should have a strong sense of responsibility to make contributions to the world and the society, be clear on their responsibilities and to strive for, we must strive to be a responsible student!