United Nations peace-keeping operations is in compliance with United Nations Security Council to authorize the deployment. In recent years, in order to face the changing forms of conflict and find out the best way to eliminate threats to international peace and security, the mandate of the United Nations peace-keeping operations continued to expand.
Although the United Nations peace-keeping operations varied, but the type of Security Council mandates maintains a high degree of consistency. According to the specific tasks the following several points:
1. Prevent the outbreak or spreading of the conflict to the territory;
2. After ceasefire stabling the conflict situation, for the parties to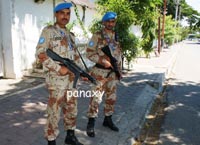 create environment for the achievement of a lasting peace agreement;
3. Assist in the implementation of the comprehensive peace agreement;
4. In the principles of democracy, good governance and economic development on the basis of smooth transition of lead countries or regions to establish a stable government.
According to the specific challenges, United Nations peacekeeping personnel usually are authorized in playing a catalytic role in peace-building activities for the following key:
1. The disarmament, demobilization and reintegration of combatants;
2. Mine clearance operations;
3. The protection and promotion of human rights; 4¡¢Electoral assistance;
5. Support for rehabilitation and extension of State authority;
6. Promote social and economic recovery and development.