In 2000, the United Nations started an important work: analysis of its peacekeeping experience, the introduction of a series of reforms to strengthen its ability to operate and maintain the field operation. This is because the rapid increase in demand for United Nations peacekeeping personnel, the parties increasingly request deploying "Blue Helmets" to remote and often volatile environment. Peacekeeping also face a series of challenges, including:
1. Deploy its largest, most expensive and increasingly complex operations;
2. To implement transitional strategy that have achieved a stable operational planning;
3. As far as possible to strengthen the capacity of communities to ensure long-term peace and stability.
United Nations Member States and the United Nations Secretariat continue to promote major reforms, including through:
1. The "key block theory" (2008), outlining the United Nations peacekeeping personnel in the field subject to the most important principles and guidelines;
2. Peace operations in 2010 (2006), including the Department of peacekeeping operations (DPKO) of the reform strategy;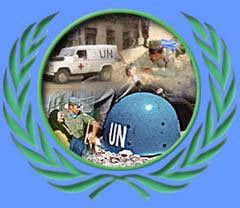 3. The 2005 World Summit established a peacekeeping commission;
4. The high level panel on threats, challenges and change, set out a broad framework for collective security in the new century.
Recent reform document----new partnership agenda: opening up new vision of United Nations peacekeeping (2009) and its 1th progress report (2010)----assessment of the United Nations peacekeeping today and major policy and strategic dilemma facing in the next few years.
The conduct and discipline area also began to reform. After in the host country of the United Nations allegations of sexual exploitation and abuse of peacekeeping personnel news outgoing, the Secretary General enforced of zero tolerance policies.