Scripture Crag for Happiness is situated at Dongxing Village, Dongqing Town, on the western bank of Jialing River. It was originally two stone caves cut by local people Kou Jishun on the mountain in 1800 in order to escape from war sufferings. During 1840 and 1884, local celebrity Jia Ruzhen gradually expanded it to five caverns by taking the advantages of natural rock cave on the lower right side of the original caverns and rocks above it. Together with the original two caverns, the seven caverns were linked together and covered an area of 3,555m2. Jia built "Bamboo Bridge Study" outside the caverns and made the study a school for local children. He carved scripts by historical figures in the cavern walls, including 152 calligraphy works (over 190,000 words) in Xing, Kai, Zhuan and other styles of Chinese character. In addition, in caverns there were 5 reliefs, 9 frescoes and stone statues of Confucius, God of Literature, Lord Guan, the Eight Immortals, Goddess of Mercy, the King of Medicine, the God of Fortune, Local God of the Land, Goddess of Sending Children, God of Silk, Goddess of Silk and so on.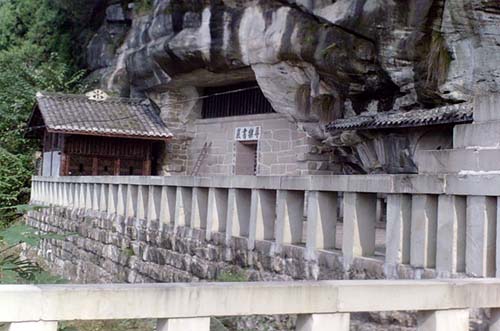 Appearance of Scripture Crag for Happiness
Afterwards, Jia built ten pavilions, porches and houses outside the caverns, with stone fence around and flowers and trees inside. The spring was flowing all year round. Jia lived here and got together with his fellows for entertainment, therefore the caverns were named "Scripture Crag for Happiness". In 1889 when Jia was 75 years old, he renamed it "Jiusi Temple", and the locals called it "Jia's Cave". Since the Republic of China, due to the decline of Jia's family, Jia's descendants had sold all the calligraphy works for living; the pavilions, porches and houses outside the caverns were pulled down before the liberation in 1949; the stone statuses in the caverns were destroyed during the Great Proletarian Cultural Revolution. But it is lucky that the reliefs and stone caving have been kept till now, which are called "Exhibition Room for Calligraphy of Qing Dynasty". On April 8, 1983, it was listed as the county cultural and historical site by the County Government.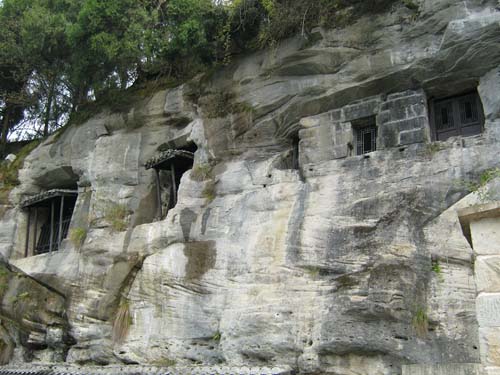 Appearance of Scripture Crag for Happiness