On Oct. 10, 2006, we planned to interview our Tibetan language teacher: Ms. Larigy Wang. But she was not in the office since it was noontime .After we had waited for twenty minutes, some teacher told us that Ms. Wang went out to teach Tibetan dances. Hence, we changed our plan.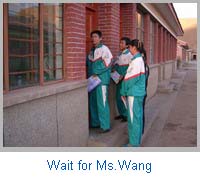 The next day, Ms. Wang was still not there. 'Let's write some words to express more', suggested Niu Dang-zhi . All agreed. Zhang San-jie went out to fetch some white paper, Shan Jian-lin borrowed some pens, Niu Dang-zhi and Gao Ji-li wrote on the paper. After about one hour's effort, we finished the picture.
On Oct. 18, we finally found Ms. Larigy Wang. We introduced to her about the competition of Cyber Fair, and told her we hope to let more people know about Huarui culture from this competition. She was very excited to hear and came with us to our office. She told us that history of Tibetan writing is over 1300 years. There are 44 letters in Tibetan, 30 are consonants and 4 are vowels, 5 are for loanword and 5 are aspirated. When write Tibetan characters, it should be written from left to right.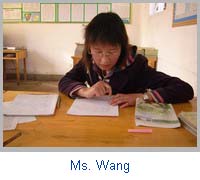 Ms. Wang taught us how to write Tibetan Characters and helped us to read all letters. We wrote Chinese phonetic transcription under the Tibetan letters and we tried to remember all these letters.
Ms. Wang added Tibetan characters to the picture we drew.
This year, all students that learn Tibetan language were transferred to Minority Middle School in the capital of Tianzhu County. And Ms. Wang, originally a Tibetan teacher, now has changed to teach English. We don't know if she misses those students who learn Tibetan.
Before we left, Ms. Wang lent us a book that introduces Tibetan culture. We were quite pleased and sang a song to thank her.
These days interview made us feel quite excited. We not only learned knowledge about Tibetan language, but also understand that Characters are carrier of ethical culture. Tibetans created our own characters and language, and this made our culture recorded and reserved. We are quite proud of this.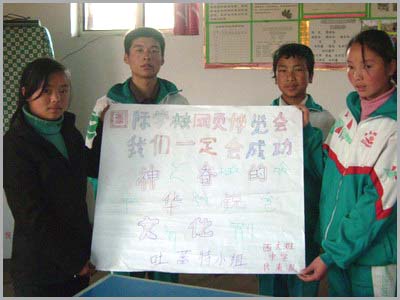 The picture we drew
(By Students members of Tubote Team)