Internet, Culture & Future
I'm not living in Westland Village, but in a big city thousands miles away. In this one year, I'm keeping on contacting Westland School by the Internet and helping them to prepare for the competition of Cyber Fair 2007.
I finally saw these four kids who will participate in the competition and their teacher Mr. Pu Cheng on a Snow-capped day in 2006's winter. The children wore thin clothes, and there were some frost wound in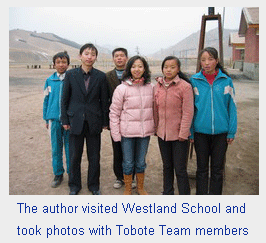 their hands. All of them were quite shy, but when I talked about Cyber Fair, they became quite excited. Dang Zhi Niu, one child among them, is receiving donation to continue his study.
Westland Village is one of 7 depressed villages in Tianzhu Tibetan Autonomous County. The annual per capita income is less than $70 (Data in 2005). For many kids, the problem they care most is if they could continue their study in next term.

In the year 2001, Westland Junior Middle School got 20 computers donated by Town and Talent Technologies (China) Co. Ltd. And the school succeeded accessing to the Internet. Those children who receiving donation could communicate with people come from Tianjin, Taiwan and abroad by the Internet, although most of them have never went out of the local mountain. With the help of the non-profit project Yellow Sheep River sponsored by the company, the school set up their website and made people know more about the local area. With the help of the Internet, the school may get more outside knowledge and chances to improve education and local living condition.
Tianzhu Tibetan Autonomous County is the first autonomous county in China, and it is the main place where Huarui Tibetans live. But when I came to there, I found nearly no people wear Tibetan clothes. Due to the new policy of the local Education Bureau, all the students who are learning Tibetan language were moved to Ethical Middle School in the capital of Tianzhu County. The Tibetan language teacher in Westland Middle School will change to teacher English. I wonder if the Tibetan students stay at Westland will have less chance to learn Tibetan language. The main text and other teaching material used in the school are mostly the same in China. Students there have not many chances to study their own culture. After participate in the competition of Cyber Fair, the children told me when they went out to collect information and access to the Internet to know more information about Huarui culture, they began to feel how brilliant and special their culture is.
I meet these lovely children and their teachers by the Internet, and I also hope that the Internet could open the sight of the children and take more chances to them. I hope them not only could learn more about outside world, but also learn more about their own culture and protect it. I hope they would not lose the chances of receiving education and participating in competition because of their poverty. I hope in the future, they could change this area to more brilliant and let Huarui Culture be inherited from generation to generation.
I believe, they have made the first step.
(Written by Joy Tree)