School's Future - A Plan to Build a Schoolyard Farm
There are more than 400 students in Westland Junior High School, but 50% of the students can't continue study after graduation. And since all these students have spent 9 years on learning at school, they don't have enough time to learn much farming skill at home. Most students will be more than 17 years old after graduation since children go to school in a late age in rural area. So when they go back to home they may find it's hard for them to learn farming.
There is an empty space about 900 m2 in the school, and there is a well nearby. We plan to build a farm there. The total investment would be $3,500. The detail is as the following:

| | | | |
| --- | --- | --- | --- |
| | Number | Requirement | Rooms |
| Pig | 25 | Brick wall, Concrete ground and canopy | 25 |
| Yak | 5 | Brick wall, Concrete ground and canopy | 1 |
| Sheep | 20 | Brick wall, Concrete ground and canopy | 1 |
The use of the investment in return
1/3 of the return will be used to donate poor students on tuition.
1/3 will be used to improve all students' food. Let students eat better with less money.
1/3 will be used to improve the situation of the school, such as buy more laboratory instruments to the school.
Those students who get the donation from the farm will work for the farm at spare time. And the farm will be a classroom to teach all students farming skills.
We hope this project will give more chances to students and the school. We are still looking for the investment by now.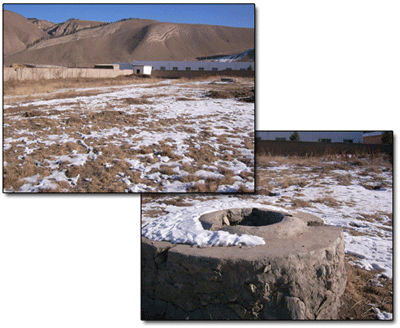 The place where we plan to build the farm and the well beside.