The development projecto of water conservancy modernization demonstration county of Guide launchs
"The development project of water conservancy modernization demonstration county in the Guide of Qinghai " was approved by The Ministry of water resources and the people's Government of Qinghai Province puts forward: through the 10 years of efforts, strive to finish the rational allocation of water resources, water ecological environment protection, integrated urban and rural water security, agriculture and animal husbandry, comprehensive flood control and disaster mitigation, modern water resources management "six modern water conservancy systems", fundamentally reverse water conservancy construction obviously lag situation in Guide County, Tibetan Autonomous Prefecture, Hainan province, build modern water resources demonstration county in Qinghai province.
In recent years, Guide County, vigorously carry out the construction of water conservancy in the livelihood of water conservancy, ecological water conservancy, strengthening water resources management and protection, continuously innovating water reform and development system and mechanism, to promote economic and social sustainable development.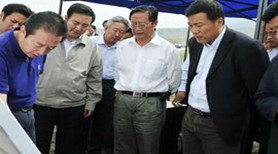 Director Ma Zhiming introduced: "not only a large number of water conservancy projects have been started to implement, more important hydraulic engineering, river regulation, the safety of drinking water, irrigation and water saving reform, soil and water conservation projects have been carried out. Now a total of 28 projects have been finished, the total investment is 0.47 billion yuan, the vast majority of projects have been approved by the provincial department, most of them have the situation to start construction. Through the implementation of these projects, the water problem of 6900 people, 24000 animals and 2.78 thousand irrigation area will be solved, to further improve the Guide county urban and rural infrastructure conditions, farmers and herdsmen production and living conditions, promote the development of county economy and society."