Catagory:
  Local Culture, Musicand Art Forms
Description of "Our Community":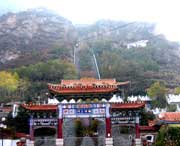 Datong County of Qinghai Province is located in the north of eastern agricultural area, Capital Xining, rich in resources. There are 234 acres of pasture available and 100,000 hectares forest area, covering 26.4% of forest, ranking the first of the province. There are many wild plants, 160 kinds of medicinal plants, including blue macrophylla, capillaris, rhubarb, etc. sold to Beijing, Shanghai and other places. Seabuckthorn covers 12 acres,?and white birch?6 acres, whose productions are with high nutritional value and health functions. Datong is of a plateau continental climate, so the annual sunshine time is long, and the annual rainfall is 450--800 mm and average temperature of 4.7 ° C. In summer it is nice and cool,enjoying the unique natural landscape, becoming an ideal summer resort tourism, which is an important tourism in Qinghai Province and also a good prospectone of developing national and local tourism industry.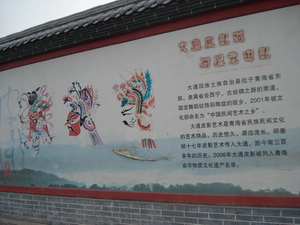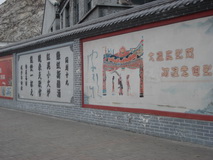 Our Computer and Internet Access:
  Our school's Internet is access through fiber-optic line network, 4M. Although there are computer classrooms, computer sets are old, and basically unworkable. Only a few computers in the office in recent years equipped can be used.
Problems We Had To Overcome: 
  This is our first time to participate in international website contest, which is a massive competition, we are very excited. We didn't know which theme to choose at first. There are many types, including local music culture. So we chose this, in the hope of making our own website to introduce the local shadow. After the theme, we did the division to collect data, so that students gathered some information on artists and other materials. Students are very hardworking, spending free time in the computer room or office on their collation of data collected. After more than a month, our data collection was almost finished, during that we encountered a lot of difficulties in the process, for example, artists were not available, or no material for making shadow in hand. So we had to continue searching for another artist. We had a lot of homework every day, so there was no time to do web pages, only at night after school. We took the time to do it, sometimes until midnight. Also there was a long way for interview, where few buses. We had to ask for a leave for the interview in the Palace of Culture, only relying on coordination of Teacher Ma and the class teacher. Although it was hard, we made it.
Our Project Sound Bite:
  Our website finally was completed, which maybe not good enough. But we are pleased, because this is our first result. By making the website, we have a further understanding of the shadow, which is a new knowledge of Chinese long history and culture, and which can let more people know about Datong shadow.
How did your activities and research for this Doors to Diplomacy Project support standards, required coursework and curriculum standards?
  Through this special topic research for the Net Fair contest, we did gain a lot. Firstly, we learned so much about its development in the past and at present, we also collected some information about the local shadow play, which were shown in the media class, inspiring many students' interest and attracting their praise and encouragement. Therefore, many students joined us to offer ideas. Secondly, after we have made the website, every member in our team has become competent in computer, and we were so proud that many students were motivated and wanted to join us to study website making, so they did perform well in the class and show great activity. All of these were undoubtedly beneficial for the information technology education. Thirdly, the research has helped to improve the students' abilities in several aspects, such as their information technology ability and the comprehensive quality of writing and designing, in result of which, the school decided to develop a course on this special topic, generally building data and enlarging the course content. In this way, the courses in the school have been enriched and the teaching will also be improved.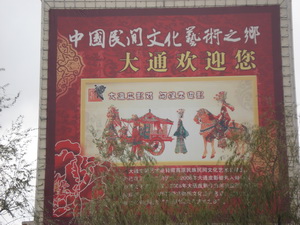 Summary of Our Project:
  Datong's Shadow Art is the folk culture art in Qinghai, with a long history. Chong it has been introduced into Datong in Chongzhen seventeen years of Ming Dynasty, over 300 years until today. In 2006 Datong Shadow was listed in the non-material cultural heritage of Qinghai Province. Datong is awarded the Hometown of Chinese Folk Art by Social and Cultural Library Division of the Chinese Ministry of Culture. It is now working on the cultural brand of Datong Shadow. Beside the streets of Datong, Datong shadow wall paintings are everywhere.
What information tools & technologies did you used to complete your CyberFair project?
  Hardware: Computer, Digital camera, Scanner, U disk.   
  Software: dreamweaver8, macromedia fireworks, Microsoft Word ,Outlook Express, 360IE,Internet Explorer,ACDSee8.
What has been the impact of the project on our community?
  We were warmly welcomed by the County Museum staff and the folk artists, who were positive to tell us about Shadow Show and the performance, when they heard we were promoting Datong shadow. They said Datong is playing a cultural brand of Datong Shadow Art, and they asked us to do more publicity, We also suggested them to teach more and play more. The artists also have the pressure. Such as they want to set up civil shadow work room to carry forward the tradition shadow. We hope that our advocacy will improve their visibility and help with their shadow art development.
Discoveries, Lessons and Surprises:
  We have learned a lot about Datong Shadow, the non-material cultural heritage, including its development process and the current situation, by participating in the research project of the International Website Fair. We made some publicity?in campus, showed web site in the amphitheater, so that students learned and enjoyed more about the Datong shadow such as its history, and its actors. We have also learned web site designing, simply manipulating photos, and photography with a digital camera. We deeply felt the teamwork and the convenience from computers. But we suffered enough that the computers always lost our efforts by mistake. However, we came to know the rich folk culture around us by this contest. Tere are many talents, whose focus efforts won the admire of us. There are also many self-learning folk artists, who treat time as gold to seize the time to learn how to better inherit and carry forward the folk art. We also realised their usual hardworking, and learned a lot from them the knowledge with further understanding of the success which only belongs to those who are diligent.