Yellow Sheep River is a tiny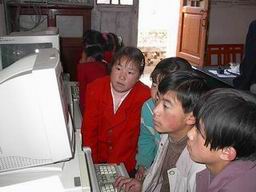 mountain village at the foot of Mount Qilian, where yellow sheep once roamed. With the deterioration of the natural environment, what is left is barren, inhabited by a silent mountain and desperately poor people. In October 2000, Dr. Kenny Lin, the former President of Inventec Electronics (Tianjin) visited this place and was moved by what he saw. This occasion gave birth to the Town and Talent Technologies (China) Co., Ltd (TTT for short).
For the people in Yellow Sheep River, Dr. Kenny Lin gave them material assistance, but also wanted to change their life fundamentally. He decided to help them by using the Internet, inviting local teachers to training courses in Tianjin, who could later instruct students in making web pages. Later, the top 100 students in the area were invited to visit Tianjin and Beijing. In only one year, great changes have happened in Yellow Sheep River and the Internet has changed their life.
In late 2000, Dr. Kenny Lin shared his idea with Mr. Wang Dao-han and Mr. Sayling Wen about developing Yellow Sheep River by using the power of the Internet. Mr. Wen was quite happy to learn about this idea and decided to carry o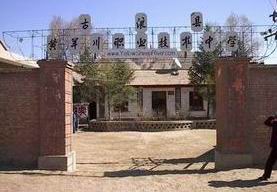 ut a plan called ¡°Town and Talent¡± and bring to scale the ¡°Yellow Sheep River¡± project nationwide by investing 50 million dollars to setup Town and Talent. In the plan, schools would provide a leadership role in developing local economies and help create wealth through the Internet.
The original motivation for solving poverty is Mr. Sayling Wen¡¯s care for children in financially strapped areas and his strong patriotism. Dr. Kenny Lin describes Mr. Sayling Wen as ¡°adventurous, persistent, broad-minded and altruistic.¡± ¡°Adventurous¡± refers to Mr. Sayling Wen always choosing great challenges to undertake. ¡°Persistent¡± refers to his ability to always forge ahead in any endeavor by overcoming difficulties. ¡°Open-minded and altruistic¡± refers to his introduction of Internet technology to financially strapped areas and creation of new types of development.
Mr. Sayling Wen¡¯s greatest intellectual contribution was his book ¡°Seven Steps to Become an Information Society.¡± In it, he argues that schools would lead local economic development and maximize e-business, improve agricultural and pastoral economies, establish internet villages, encourage relocation from rural settlements to internet villages, develop the service industry, and enact a system of distance employment and service. These seven steps can realize the transformation of an agricultural society to an information society, making it the most effective method for solving poverty. When the concept of ¡°e-towns and Internet access in rural areas¡± was proposed in domestic and international conferences, TTT had already implemented the plan in hundreds of villages nationwide. The completion of the International Convention Center at Yellow Sheep River made Yellow Sheep River the first successful demonstration of transforming an agricultural society to an information society worldwide; currently, there are 155 TTT member schools in 15 provinces.
Although the death of Mr. Sayling Wen on December 7, 2003 has influenced TTT, the basic development strategy and model has already been established, proving that schools can lead local economic development while simultaneously eliminating the digital divide. The development of TTT is Mr. Sayling Wen¡¯s lifelong wish and continues to be the goal of all the employees at TTT.
In continuation of Mr. Wen¡¯s legacy, Town and Talent Technologies has continued it philanthropic mission. Using the
technology of its Ccare West E-Chairty Platform to monitor and evaluate impact, TTT has facilitated the donation of 2,111 computers, £¤1,228,000 in scholarships, 18,779 books, and 300 videos to 3,036 needy students in 94 member schools as of September 2007. From 2006 to 2007 alone, the total volume of donation exceeded 2.38 million yuan.
The China West Story platform also continues to thrive. After a 4 year collaboration with member schools, TTT is now able to verify the accuracy of student stories and ensure that donations are directly transferred to student accounts. In 2006, TTT also carried out the Planting Trees & Nurturing People program, which encourages beneficiary students to give back to society, by taking care of lonely seniors and planting trees, to name a few examples. Someday, Care West platform may be the best and most widely used e-charity platform in China.