In order to draw people¡¯s attention to western China, Nanjing TV Station shot special film named The First Rainbow from Apr 27 to May 4. The film contains 12 series and takes place in Xia¡¯si Primary School in Jiange County. By recording four Nanjing kids¡¯ experience in western China and life difference, it hopes to evoke people¡¯s attention to western regions and local kids. It¡¯s supposed to broadcast in mid of May.
Mutual help between Nanjing and Xia¡¯si kids
There are 17 people in the film crew, including 4 recording groups, 4 kids from Nanjing and 4 kids in Xiasi Primary School. The film draws great attention from local government officials, in which Mr. Ren Wen, the head of Taiwan Affaris Office in Guangyuan City went to the school to express greetings to the crew and acknowledgement to Taiwan businessmen for years support to local education.
Before shooting film, the principal did a lot of preparation, offering large amount of typical students¡¯ information and stories to the film crew. In the process, the four kids from Nanjing, including Litong, Ma Xinyang, Yang Yifan and Jiangping; and four kiss from Xiasi Primary School, including Sun Shaoyu, Chen Xingyi, Gou Yuxin and Li Siliang studied and lived together.
Li Siliang¡¯s parents were lay-off workers, and now they were migrant labors in other province. Thus, he lived with his grandpa in a shabby dormitory of bankrupted factory. There was no cable TV signal. In the evening, Jiang Pingping, Li Siliang and neighbor kids stayed under the tree, telling stories about Nanjing and playing chess. Because of unaccustomed to the local environment, Jiang had to drip of fluid in the hospital. After the class, li went to keep accompany with sick friend. In several days, the kids from eastern and western regions became good friends. In the afternoon of May 4, the kids from Nanjing were going to leave. The little friends were busy with changing gifts, recording address and etc. when the can engine started, Jiang couldn¡¯t help weeping.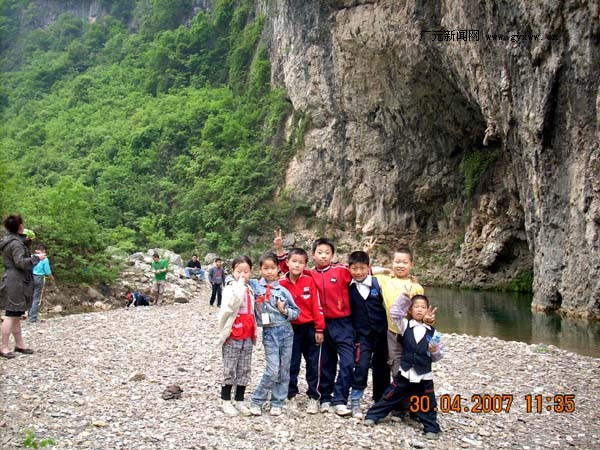 Xia¡¯si kids moved film crew
As the kid¡¯s family situation was quite different, teachers in Xiasi Primary School didn¡¯t recommend Yao Niyan at first. In the first day of filming, Nanjing kids offered cakes to local friends. Yao didn¡¯t eat, but took it home. This caused film crew¡¯s curiosity. She told them that she would give the cake to her younger brother. Then, they got to realize that her parents were working as migrant labors. In her family, there were her grandparents, younger brother and her. Yao was smart, who could communicate fluently with crew. Therefore, Yao was chosen as main character in their program. It¡¯s expected that Yao¡¯s story will make into one series program.
Gou Yuxin¡¯s story was also interesting. One evening after classes, Mr. Xu discovered that a little boy playing outside the classroom. After asking the boy, she got to know that his elder sister was a pubil in Grade Six. He was in Grade One. Their home is ten odd km away from school. Thus they live in campus and the elder sister took care of him. It cost them more than 3 hours to walk from home to school. Afterwards, the teacher found that there were four kids from that village studying in Xissi Primary School.
This situation was very common in that school. In surrounding villages, the little kids were taken care by relatives or their parents rent a house to keep accompany with them. Those four kids were very special, who took care of themselves. In vacation, the film crew decided to record the process of their returning home. They leaved school at 8:00 am and arrived at home at 5:00 pm. When the film crew came back to school, it was already 8:00 pm. They had no time to have dinner, but took photos of their sleeping in students¡¯ families.
The little kids became good friends in the process.
Book donation ceremony: the film crew took 500 odd books for Xiasi Primary School. The ceremony was named Nanjing TV Station¡¯s Rainbow Book Donation.
The Hand in Hand Party was held in the evening of May 3. the original plan was a campfire. However, because of rainfall, the party was held on the cement playground. As the program was supposed to broadcast in the mid of Aug, they especially designed a step to lighten the Olympic rings.
Mountain-climbing activity In the afternoon of May 1, the film crew and students were divided into two groups. One group chose the way from Cuiyunlang to Jianenguan; while the other chose Guanlou, Shisunfeng and Liangshan Temple. In the whole process, kids from eastern and western regions helped each other. It was already 8:30 pm.
Relevant information
This program was invested by Tomorrow Technologies Co., ltd, which was initiated by Mr. Sayling Wen. This is the first writing company initiated by Chinese. The first 3D cartoon series named ¡°Qinshi Mingyue¡± is created by Sayling and produced by Tomorrow Technologies. TTT and Tomorrow Technologies belong to Pan Tomorrow Group. Xiasi Primary School was chosen by TTT as a base of this program. Recently, there are eight schools in our city participating in TTT member schools, who receive much material help from TTT. Thus, many kids in rural mountain areas have the chance to learn computer.
Reported by Houjing, journalist from Guangyuan Daily
Chen Er¡¯mao, teacher in Xiasi Primary School