Town and Talent Technologies CO., LTD.(TTT ) hold the startup of ¡°2008 New TTT Member Schools¡± in Xining City on Jun 13, 2008. The present officials were: Dr. Kenny Lin(CEO of TTT), Mr. Fan Yongjun and Mr. Gao Zhanlong(heads of Taiwan Affair Office of Qinghai), Mr. Gao Haibin (the official of Gansu Educational Bureau), Mr. Zhuang Daoda (professor of Gonzaga University) and heads of local educational bureau. There were nearly 47 teachers from 24 member schools taking part in this ceremony. Mr. Peng Haina presided over the whole ceremony.
| | |
| --- | --- |
| | |
At 10:00 o¡¯clock of Jun 13, all the participants stood in silence showing respect for the dead in Wenchuan Earthquake. Mr. Gao Haibin delivered startup speech, and then, Dr. Kenny Lin reviewed the TTT¡¯s development in the past and look forward the future. In the next, Ms. Li Bo, the vice manager of TTT and Mr. Peng Haina gave a report about CISS and China West Story Project. Mr. Fu Mingxiang, the administrator of Huangyuan No. 3 Middle School introduced their implementation of TTT projects. At last, Mr. Fan Yongjun summarized the development of TTT projects in Qinghai, confirmed the achievement and encouraged member schools to make further progress.
In the afternoon, Prof. Zhuang Dadao gave speech titled global digital system. Ms. Li Zhihua, the manager of TTT, introduced the usage of member school software in detail. At last, Mr. Lv Qing hold a training program for member school teachers.
By participating in the meeting, teachers from new TTT member schools got to know the TTT belief and duty. They said that TTT projects benefited western impoverished area. It was lucky that they had the opportunity to be a member of them. They determined to participate in TTT projects actively, which would have positive impact on TTT¡¯s development in Qinghai Province.
Qinghai is one of the earliest provinces to participate in TTT projects. In recent years, governments, especially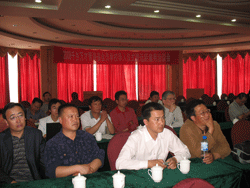 Taiwan Affair Office and Educational Bureau paid much attention on it. There are 24 member schools in Qinghai. As many as 597 needy students received 373,200 yuan scholarship. 15 member schools got money and material amounting as 994,000 yuan. 24 teachers in member schools got 41,000 award.
In China West Story project, each member school has made great contribution. In 2007, 238 students from 14 schools created 1352 pieces of story, and thus received as much as 127400 yuan scholarship. The tutors received 32000 yuan guidance fees. Eight top schools were awarded Nikon digital camera.
It's supposed that more students will participate in China West Project to practice writing and computer skills. Member schools have participated in Cyber Fair for three years. This year, they got one golden, five silver and seven honorable prizes. In 5th TTT Webpage Competition, member schools got First, Second, Third and Honorable Prizes. In 2007 annual competition, Qinghai member school ranked top among all the provinces, and received 5 desktops and as much as 80000 yuan awards.