Bounding For Home
By Lin-lin Zhu, the Teacher of Tianjiabin Middle School
I know our school has students from poor families and I have donated clothes. Zhang Xiong was the only one who came to me and expressed gratitude. Later, I learned more about her from the chief teacher of her class and I have paid more attention to her. She is a good girl having dreams and ambition and striving for them. The more I learn about her the more I want to give her some help.
This weekend the students of the 12th grade had a day off. They seldom had such occasion. Zhang Xiong invited me to her home. She also wanted to have a look at her parents and do some house work.
I never had carsick but after two hours of bumpy trip I felt relieved as I got off. Zhang gave me a sorry smile and I managed to catch her up. I had to return to school that day. As she pointed to the clay rooms, I knew I was in the impoverished place.
As I finally got to her home, she instantly introduced her family to me. I was so moved that I nearly cried when her father struggled to get up from bed. After everyone cooled down, her parents began to praise her. They said they should be satisfied in their lives to have such a daughter. Zhang walked away for shyness. My eyes were full of tears when I watched her awarding diplomas since primary school which her father took from the pillow. Impoverishment was actually not equal to tribulation. Many people are bearing hardship while smiling in this world. I went out of the room with the excuse of seeing what Zhang was doing and I saw she was working.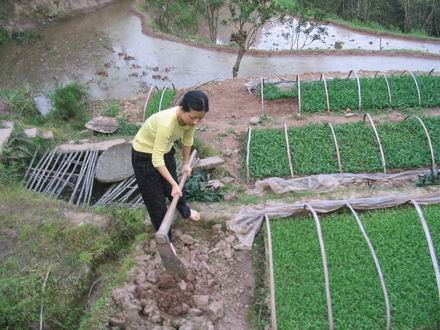 When I took part in the activity of planting trees in our school, I knew that using a hoe was not an easy task. However, Zhang was manipulating the stuff I once hardly dealt with. I really wanted to offer her a capacious stage to have more wonderful performance not just good handling of a hoe.
In the dusk, I saw Zhang¡¯s mother came back with a large basket of grass on her back, which she just sheared. We were leaving and her parents told Zhang to study hard and not let the teachers down. I learned a lot that day.