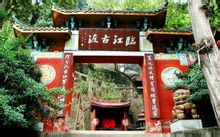 Preservation of the ancient temples

Linjiang temple was located on the west bank of Jialingjiang River, one kilometer west of the county, was named after its location near Linjiang ferry. Setting out of Cangxi county and passing through Jialingjiang River bridge, looking far we could see the cliff, surrounded by green trees, as well as the ancient temple there. We were standing on a stone staircase of one crossroad in the highwat, looking to the river banks, we saw lush trees, sharp cliff directly sticking onto the riverbank, but with the temple nowhere to find.

 

Walking down the stone staircases with twists and turns, then we found the wall of the cliff was wet. Someone must has chiseled out a groove and in whose end chiseled another two round holes, from where water united and rolled down together. That was the scene we saw two hollows of clear streams rolling down along the cliff. One accompanying team member told us we should have our hands washed there, for only the wholly clean people could go into the quiet temple to worship the Buddhas. The water was warm and cool. Even this summer was extremely dry, there was water here. At the end of the stone staircases, we saw Linjiang temple on the left, the stone staircases through which were clean, the trees and walls surrounded which were green and red, the mountain gate was looming.

We were surprised to find that the whole Linjiang temple was all chiseled out, including its halls, floors, galleries, paths and the Buddha figures, plaques and inscriptions. It was actually a huge cliff in the past. From the Ming Dynasty, people started to chisel caves to worship the Buddha.

When we arrived outside the mountain gate, we saw what surrounded the temple were mountain and river, and the mountain was covered by lush bamboos and ancient trees. Entering the gate, we ascent the stairs from the left cliff, made a west turn and arrived the second floor of the temple. In the middle of this floor was Ciyun Pavilion, in which there seated the figure of the Bodhisattva Guanyin, and on both of whose sides seated Linggongdian Hall and Sangongdian Hall. In front of the hall, the stone gallery was a winding path leading to a secluded place suggesting that we had to bow down our heads.