°∑°∑

People and Nature
Daoist cherishes its own places. At first, it is for the purpose of its own existence and development. But objectively Daoist has the awareness of environmental protection and emphasizes on maintaining the harmony between people and nature. In recent years, when the Daoist master PENG Chunxian was in charge of Qingcheng Mountain, he planted lots of trees and medicines, developed Daoist-style food, and therefore attracted more tourists, which helped the Daoist temple get through the difficult times and provide new developmental opportunities for Daoist. However, in the process of development, the Daoist protected the environment and Daoist cultural relics. They never tried to fight against the nature or reform the nature, instead, they tried to live friendly with the environment.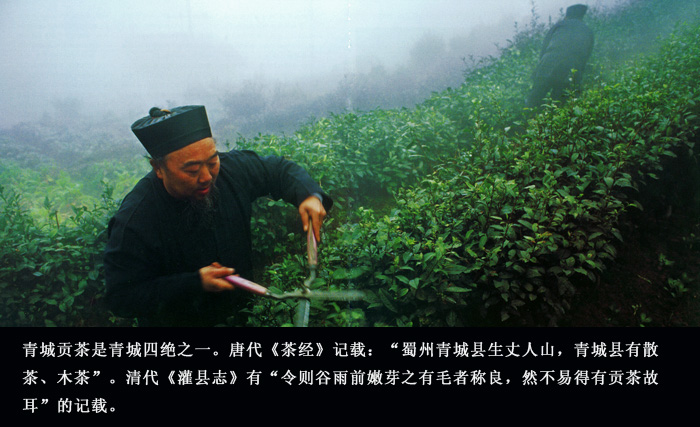 °∑°∑ Related Photos

Generally famous mountains and great sceneries are all tranquil, however, Qingcheng°Įs quietness is still rare. Qingcheng Mountain is located in populated and convenient areas, but in Qingcheng, there are thousand-year old trees and relics. Here, it°Įs cold, secluded, and quiet. With luxuriant plants, Qingcheng Mountain is a secluded and natural beauty.
[Top of page] Origin of Daoist

°∑°∑
Min River°∑°∑
Characteristics of Qingcheng°∑°∑
Notes of our stories°∑°∑
Profile of the Work°∑°∑
About us°∑°∑
028-61730325
Email:pyzx885@263.net
School: Puyang Town Middle School, Dujiangyan City, Sichuan
Our Team
Guide Teacher: Gao Yong Team Members: WangYueHan XinYun ZenXueMei
°∂Daoist in the Qingcheng Mountain°∑
Chengdu is the cradleland of Daoist. This place has a long history of Daoist culture and is an influential place inside and outside of China. Especially the Qingcheng Mountain in Chengdu, as the origin place of Daoist and World Cultural Heritage, is an important resource to establish Chengdu as a nationwide tourist brand of Daoist culture.